Blowdown
Last month, I suffered the after-effects of a potent late-summer thunderstorm, with winds approaching
derecho
ferocity. The outcome of the storm left me without electrical power for about 5 days (no big whoop -- personally, I discovered that I used my refrigerator more to prevent gypsy moths from infesting my grain pantry than anything else). The storm also blew part of the roof off where I work. Some of the local broadcasters got so worked up over the damage that they said stuff to the effect, "this storm has changed the arboreal landscape of the northern metro". I have lots of trees, almost all of them oak, and nothing got blown down. On the other hand, the storm leveled many of the trees in open spaces, a side-effect of not having the benefit of a natural wind-break baffle.
But in retrospect, last month's storm seemed inconsequential to a storm that swept through the Boundary Waters Canoe Area (BWCA) wilderness of northern Minnesota in 1999.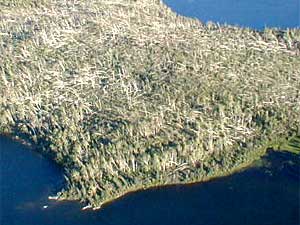 Ottmar had never seen anything like it. Trees were flattened for miles. Many had been snapped off 20 feet high. Dead wood formed a tangled, well-ventilated mat so thick a person could stand on a horizontal trunk and still be 12 feet above the ground. His team had to crawl, climb, and duck, with clipboards in hand, to cover the few acres they needed for their survey.
I haven't visited that area since the blowdown, but I have crossed man-made clear-cut tangles in the BWCA and can't even imagine the devastation that that particular storm caused. Pictures don't do it justice, because the effects go beyond the camera's horizon. Similar to a huge forest fire (which could still happen, given the amount of timber tinder remaining 6 years later). And as I recall, the storm knocked down quite a few state-record trees, including the tallest white pine.
Percentage of trees blown down in Superior National Forest in northeastern Minnesota on July 4, 1999.
A lodge owner watched as his lawn chairs flew across the lawn "like little missiles." Canoes and boats were blown into the air, followed by boat docks and boat houses. Trees were sheared in half, uprooted, tossed in heaps. "They looked like pixie sticks; they were scattered every which way." Although the storm lasted no more than 20 minutes, it managed in that brief time to knock down more than 25 million trees, flattening a path 20 kilometers wide and 60 kilometers long.
And to think that this storm had nothing to do with global warming or climate change in general. But the old-growth conifers of the BWCA may not come back as the prime canopy.
And there's more. Frelich says red maples are appearing in the newly opened forest - where they wouldn't have survived just a few decades ago. They're here, he says, because winters aren't as cold as they used to be. And, while blowdowns are natural, it's conceivable that increasingly warm and humid weather will generate more of the strong thunderstorms that flatten timber.

If global warming is behind this, more blowdowns may be in the future. And with hardwoods like maple creeping in, the future north woods might look a lot different than it used too. The 1999 blowdown could be just the beginning.

Other sites with interesting pictures:
Science Museum of Minnesota
Minnesota DNR
NOAA